Do you know that in-store contests boost your email list and increase the reach of your newsletter program, bringing more customers into your garden center?

 

What if we provided you with the system to organize these prize draws in your store and encouraged your in-store customers to subscribe to your newsletter program?
It's a nice way to build your clientele!

 

The iPad Stand & Software that Horticulture Marketing will provide you with will make it easy to organize prize contests in your store. It will include: the tabletop stand (pivoting 180° degrees), the software, the visuals and the text to encourage newsletter subscription, and the installation training video.
All you need to provide yourself is the iPad.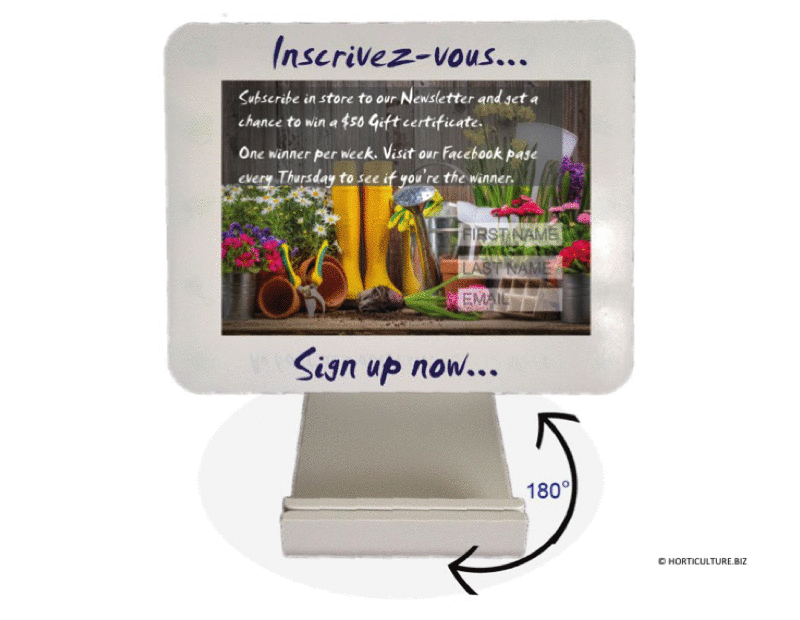 Contest and Community
After touching the iPad, your customers will be invited
to participate in the contest where they will have
the chance to win a gift certificate of your choice
when they subscribe to your newsletter.
Depending on the services you subscribe to,
Horticulture Marketing will communicate the contest and/or the winners of the contest to your digital community. This will generate interest in your
garden center and certainly attract some
of your digital community members to visit
your garden center to enter into the draw.
Here are the different communication channels where the contest and/or the winners can be promoted:
Facebook Page
learn more about our Facebook Posts Creation and Management service
Newsletter
learn more about our Newsletter Program
Website Carousel
learn more about our Website Carousel service
Retail Flyer Program
learn more about our Retail Flyer Program
INbound-CRM Software
We will create your account in our INbound-CRM software and link it to your iPad software. You will have access to all of your subscribers' information
(actual and potential clients). In order to help you better, we will provide you with
a dedicated training session to teach you how to easily use our CRM software
and get the most out of it. We are there to help you!
In-Store Visibility

To bring customers' attention to the iPad stand,
we will provide you with a coroplast promotional
poster that you can position close to the stand.
Plus, our iPad stand comes with a surrounding frame
that invite customers to join the prize draw.