'HORTIBUZZ' NEWSLETTER PROGRAM
A newsletter is a great way to keep your customers up to date on your news and new products. A well-written newsletter can bring you far more subscribers and revenue than any paid social media campaign.
When you send out an email newsletter, you're providing value to your readers.
There are many benefits to having a horticultural newsletter program. First, it helps you build your brand. You're able to share your expertise with your customers and build trust with them. The horticultural newsletter is a great way to keep stakeholders informed as well as to increase your brand awareness. It's also a good way to keep them up to date on new products and make them better at using them.
If they are successful with your products, they will take up the hobby in the long run. When they come ready to buy, they'll think of you!
How do we ensure that gardening remains a part of gardener's lives in years to come?
The answer is simple: by helping them succeed.
Providing tips, information, and advice on how to succeed is the easiest way to help them continue this hobby.
To this end, we created 110 sample newsletters.
Customize these newsletters with your company colors and let us send them on your behalf.
Free yourself from choosing texts, images, revisions…
You will save hundreds of hours of research and work with our program tailored for the horticultural industry.
The newsletter program is also offered on a self-service basis. You can save money by customizing and modifying them as you wish.
Content Creation and Customization
 

Horticulture Marketing will provide you with professional quality articles
and exciting templates that will position you as a leader in your market. Throughout the year, the program will send 40 newsletters.
Each newsletter will present a feature article related to a topic
that you will have chosen among the 100 already created.

 

The main Newsletter themes are: general plant information,
plant diseases, edible gardens, gardening tips, the top 10 …
and the winter program.
Each Newsletter
Will Include:
1. Your logo with your contact information and a header image changed to match the seasons;
2. A link to your social networks and your website;
3. A feature horticultural article – choose 41 topics from 110 available;
4. Great photos related to the article;
5. PDF link to the Info-Flyer (if this service is chosen);
6. Link to your flyer (included);
7. Google Map link to guide subscribers to your garden center.
8. Access to the INbound-CRM platform where you can check and/or modify texts and images. Add your own flyers, etc.
9. You will also have full access to nearly 200 additional templates to send other newsletters that you can modify and send at no additional cost.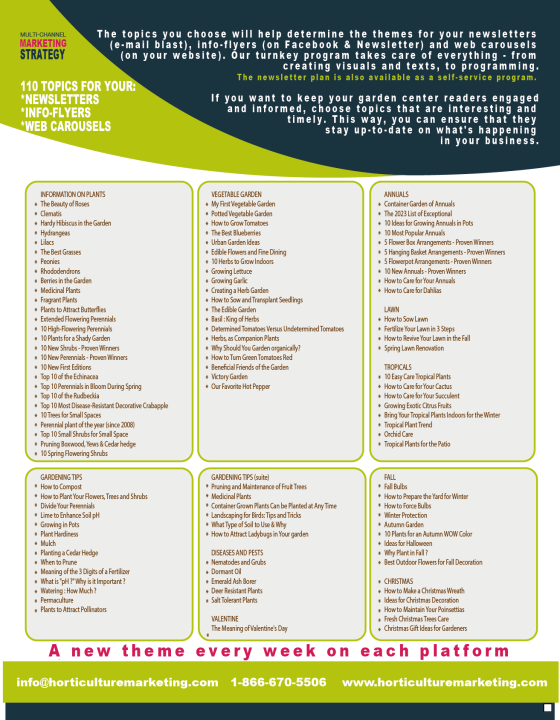 Newsletter Programming
Our technology experts will use INbound-CRM, the newsletter programming platform to plan all the communications with your subscribers. Our platform also allows us to customize the communication to your subscribers,
making it more personal and effective.

 

All you have to do is tell us which topics you want to cover, the related products
in promotion (optional) and the dates that you want the newsletters to be
sent out to your subscribers.
Newsletter subscription
In order to get new subscribers to your
newsletter program, our programming experts
will add a "Subscribe" option to your website
and Facebook page. Additionally, if you subscribe
to our iPad Stand & Software, your customers
will be able to subscribe to your newsletter
directly in-store using the iPad.
Our INbound-CRM software will give you access
to all of the statistics regarding the subscription to
your newsletter program, including the source
of the subscription (iPad, Facebook,
Newsletter or website).
Statistics
With your INbound-CRM account, you will have
easy access to relevant statistics. 
Number of openings, from which group, from which platform, number of clicks and on which links, etc.
INbound-CRM Software
We will create your account in our Inbound-CRM software and you will have access to all of your subscribers' information
(actual and potential clients) and all of the statistics regarding your newsletter program:
opening rates, click rates, soft bounce rates, etc.
CRM is short for Customer Relationship Management. INbound marketing is a strategy that relies on
1) creating relevant content for a digital community and automating the publishing activities with a software;
2) converting web-users into potential customers (leads); and finally,
3) driving them into your store and encouraging them to make purchases.
Our INbound-CRM software will help you achieve this marketing objective.
 When you login to your INbound-CRM account, you will have access to all of the newsletter content
and program information, and you will be able to modify this yourself if you wish.
In order to support you, we will provide you with dedicated training to teach you how to easily use our CRM software
and get the most out of it. We are here to help you!
Watch this video to discover all the possibilities available in INbound-CRM
Communications Managed by INbound-CRM are: 
1. Subscription confirmation email
2. Newsletter modification & distribution
3. Mailing list removal email
(if the customer unsubscribes)
4. Birthday email (with a gift – optional)
5. Christmas email (with a gift – optional)
6. New Year email (with a gift – optional).